BLACK FRIDAY SALE: Get 50% Off Your First 3 Months Using Coupon BF2020
Super Fast, Footprint Free Wordpress PBNs Launched In Seconds
Use our all-in-one platform to build, host and post to your private blog network from one simple app.
Simply give us a domain name and content and we will do the rest.
Wordpress PBNs At Lightning Speeds Launch your sites in seconds - serve your links in milliseconds!
Secure Cloud Hosting Build on 3 top tier CDNs and stop sharing dirty IPs
Simple Management Access your whole network of your blogs in two clicks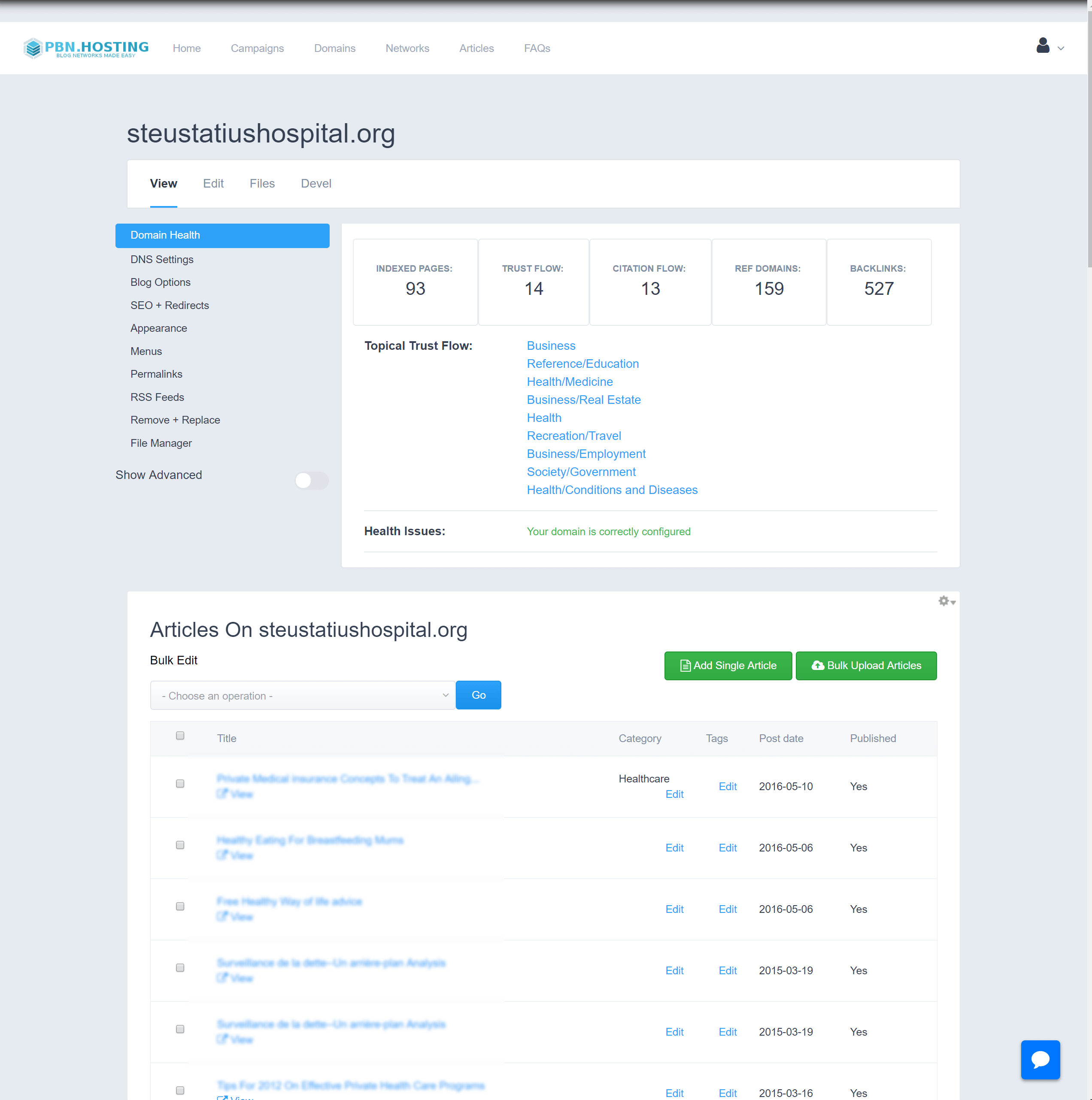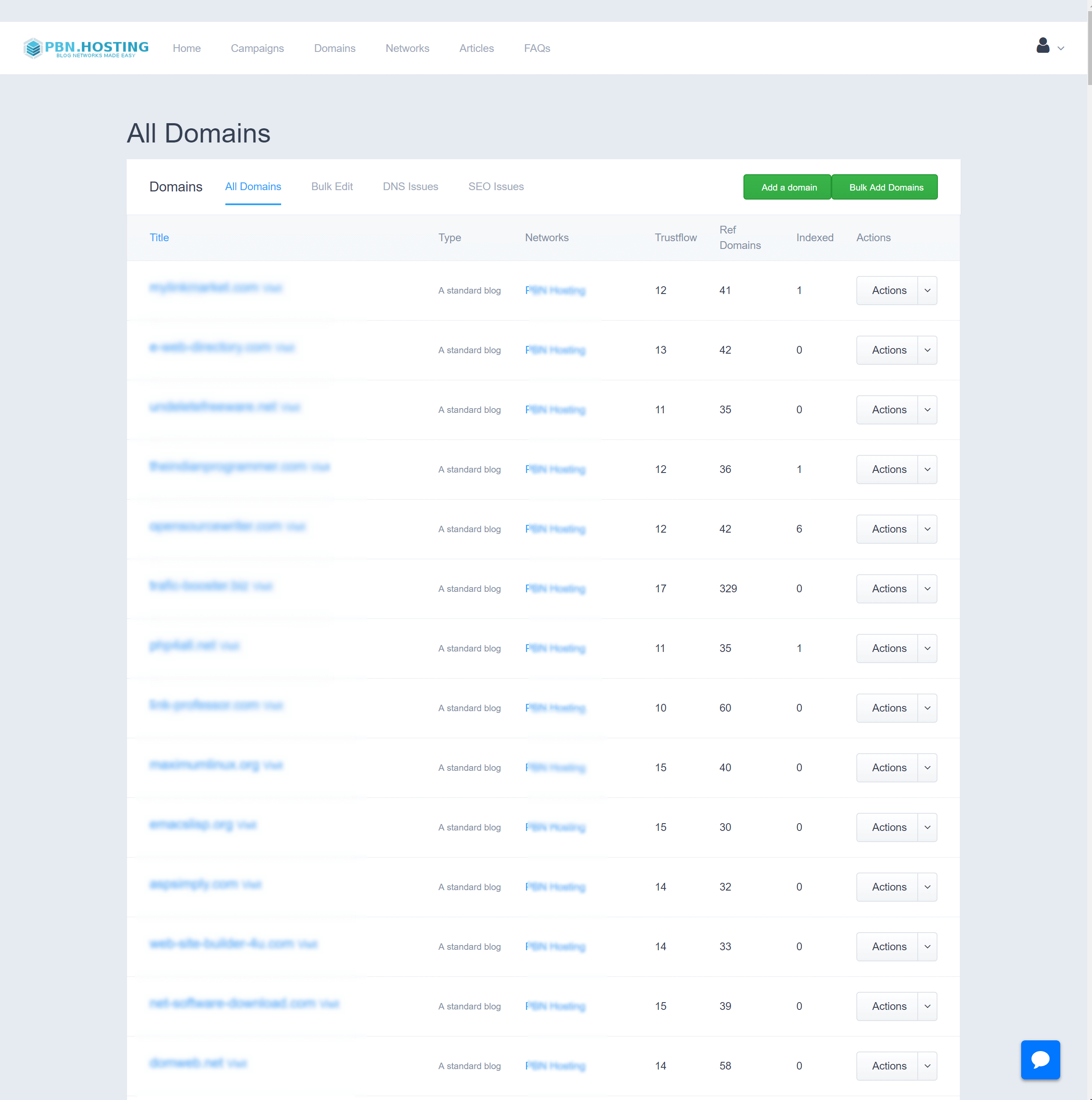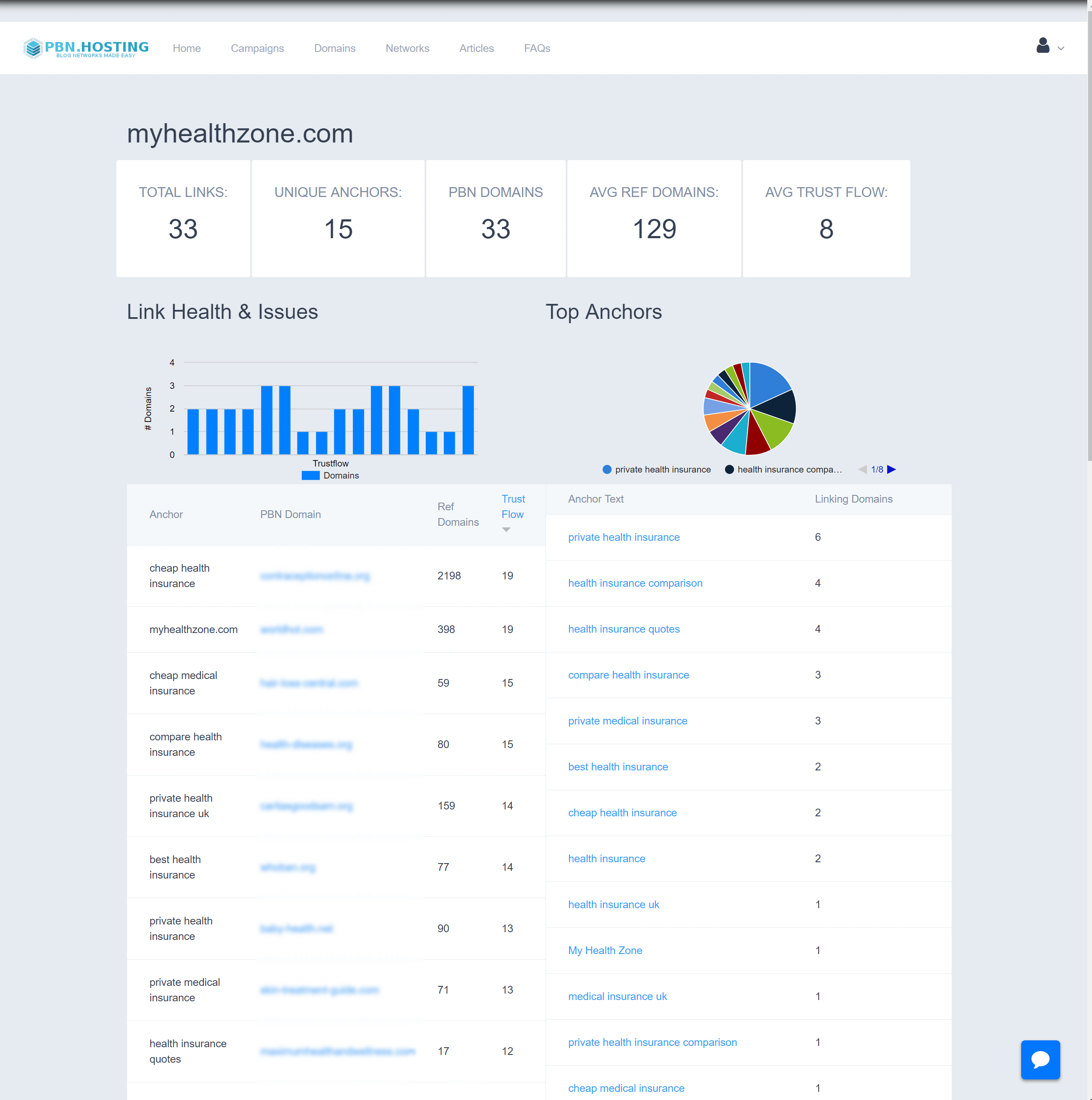 8,500 Anonymous domain owners can't be wrong..
Super fast Wordpress PBN Sites, Super Simple Setup
You won't have to hang around - we launch supremely fast sites for you in seconds. Put your mind at ease: with zero hosting footprints your sites are spread across some of the web's finest IP addresses, sharing with some of the internet's best websites.
Your competitors will never know your secrets: we block over 150 link spiders and other bad bots from your sites by default.
Nor will you get tied up in admin - we cover all the basics from choosing beautiful themes at random from Wordpress' top 500, to disabling comments and automatically updating your site and its plugins to protect you from hackers and spammers.
Your sites will fly on our hosting: our meaty servers are using the latest modern web technologies such as PHP-FPM7.2, Nginx FastCGI caching and a Redis Object cache for an incredibly fast and reliable experience, whether you're in the dashboard or browsing your blog. No oversold $5 VPS systems here!
Coupled with our 6 top-class CDN integrations this means sub 0.25s load times, meaning Google will lap up your links like never before.
Just give us your domains and add your content, we'll do the rest!
Still stuck with shared hosting? Contact us and we will migrate all your sites for you, completely free of charge.
Link Management And Reports
Keep control of your linking strategy with our in depth reports, allowing you to check anchor texts at a glance and monitor the impact of your link building strategy, as well as provide PDF reports for your clients.
Track your progress up the rankings with our live rankings data, allowing you to see the impact of your campaigns on your site's estimated traffic, keyword coverage and total traffic value.
Need to delete some links to a site or deoptimize your anchor texts ? There's no need to spend an afternoon hunting - our tools allow you to quickly edit your links in bulk without ever touching your content.
Network Health Monitoring
Not all PBN domains deliver the results you want. Some are bought ready penalized, others might drop out of the index or lose trust due to link rot.
Our actionable dashboard helps you monitor your network for DNS or SEO issues to ensure you get maximum value from the links you build - and if a domain dies it only takes a click to move your content and links to an alternative address.
Best In Class SEO Hosting
Most SEO hosts are to be avoided like the plague. While the idea of spreading your network across multiple Class C IPs is a sensible one, the economics just don't work for SEO hosting companies. They are too cheap to really offer you a 'unique c-class IP', so while each of your sites are on a different IP, each IP they sell might host tens or even hundreds of other SEO's link networks.
This crazy situation means the IPs you are buying for security are already tainted, and no matter how nice your PBNs look they suffer from being in the same bad neighborhood.
We do things differently. Instead of using static IPs that all our customers share, we provide dynamic IPs from some of the web's biggest brands. Instead of sharing with a few hundred other SEOs, you're sharing IPs with tens of thousands of real, legitimate websites. No more guilt by association, just top quality hosting for your top quality domains.
What is PBN Hosting? How can it help me?
PBN Hosting is web hosting that is specifically designed to help SEOs safely and anonymously host a private blog network. By ensuring the domains in your link network cannot be tied together you can safely link to your money site and enjoy higher rankings on Google.
What makes your PBN Hosting safe?
Unlike other PBN Hosting platforms we do not crowd our customer sites onto the same IP addresses. Usually when a tool advertises 'Unique IPs' they are unique to you - but a quick look at a reverse DNS tool will show that you are sharing an IP with 100s of other PBN domains.
Instead we use a range of top-tier Content Delivery Networks (CDN) to shield your sites' true IP addresses, safely hiding your sites in the cloud.
How does a CDN protect my network?
When you host on a CDN your server's real IP is hidden. Instead of having a fixed IP address each site has a dynamic one taken from a pool of over half a million.
As your site's IP can change constantly - and is effectively sharing with the 3 million+ other sites using these huge CDN systems - there is no longer way to tie sites together via IP or hosting location alone.
Since you are sharing with a large number of legitimate websites - sites that care enough about performance to pay top dollar for the fastest hosting - you also avoid the 'bad neighbourhood' effect of traditional PBN and SEO Hosting companies.
Can you hide my links from ahrefs and Majestic?
Absolutely! All sites block over 100 bad bots and link crawlers to prevent your competitors from sniffing out your links. There's no need to add any plugins, we keep prying eyes out by default.
Why are your Wordpress sites so fast?
Our CDNs are designed for speed, and our sites load in miliseconds. We host using modern PHP (v7.3) and Nginx to offer one of the highest performance WP hosting setups on the web. We then use NGINX FastCGI cache to further boost performance. One test site we run with a minimal theme loads in just 143ms!